Are you all ready for round 2 of Diverse-A-Thon!? I sure hope so because it returns January 22nd and runs all week through January 29th. Many of us are familiar with Diverse-A-Thon because we participated in the one that happened in Fall 2016. It was created by Booktubers Christina Marie, Joce,  Monica, and Whitney as a reaction to an awful anti-diversity video I'd rather not discuss. And this time around, there will be a fifth host – Simon from Savidge Reads!
The goal of Diverse-A-Thon is simply to celebrate diversity in literature by reading diverse books all week and engage in thoughtful discussions on Twitter under the #DiverseAthon hashtag. The readathon will largely remain the same. It is low-stress and there no challenges – just read as many diverse books as you are comfortable reading in 7 days. There will be daily chats on Twitter this time around as well, so be sure to follow the @Diverseathon Twitter account to stay updated on all future news regarding the chats. The chats are honestly the best thing about Diverse-A-Thon, so I will try to make it to as many as possible!
I encourage everyone to prioritize marginalized authors in general and #ownvoices narratives whenever possible. Seeking a variety of voices within underrepresented narratives is also important. For example, while creating a TBR with all Latinx or Black authors is great, you may consider including books by Muslim, Chinese, and LGBTQIA authors. Ultimately, what you read is 100% up to you, but variety is important!
As an incentive to get more people to participate in Diverse-A-Thon, I want to remind everyone doing my #ReadDiverse2017 challenge that books you read during Diverse-A-Thon will mostly likely be eligible to link up on my blog after you review them. Moreover, if you create a #DiverseAthon sign-up post on your blog with a TBR of diverse books, you can go right ahead and link that blog post to get 1 point for #ReadDiverse2017 and get one step closer to that 30-point "Diversity Advocate" badge! A thoughtful wrap-up post after the readathon ends will also count for #ReadDiverse2017. 
This is my way of letting you know that I really want you all to participate if you can. So have fun, stay productive, and read amazing books!
---
My Diverse-A-Thon TBR
Vampires in Mexico City? Sign me up! I was supposed to read this book weeks ago in December, but the holidays got in the way…however, I did end up listening to Silvia Moreno-Garcia's debut novel, Signal To Noise, on audiobook during the long hours of driving I did to visit family. Signal To Noise was great, so I'm even more excited to read Certain Dark Things now.
A stunning cover + killer premise = me totally sold. The book is about a girl name Sefia who lives in a world where reading does not exist, but after her parents are murdered and her aunt kidnapped, a strange rectangular object may be the only clue she has to help save her family. Yes, the unknown rectangular object is a book! 😀
The Reader is January's pick for #DSFFBookClub. I'm a terrible book club organizer, I really am. At this point, I'm just lucky if anyone reads along with me! I love Scifi and Fantasy, so I will continue to host the book club because I'll be reading diverse SFF anyway. 
Who hasn't heard of this book at this point? If you read YA, The Hate U Give by Angie Thomas must go on your 2017 TBR. This is one of the most buzzed about YA books of the year and the reviews have been nothing but glowing. On Goodreads, the book has a 4.75 rating with 298 reviews. That's very impressive! The book is inspired by the Black Lives Matter movement and follows Starr, a teen who seeks justice for her friend Khalil after she seems him gunned down by a police officer. Do yourself a favor and add this book to your TBR right now.
If for some reason I can finish 3 medium-length books in one week, these are a few other books I'm adding to my TBR.
Need book recommendations?
Check out this HUGE list of diverse books I have on my blog. 
I also have several listicles for you to peruse and find even more books to read. But if you need recommendations personally tailored to you, let me know what kinds of books you like in the comments and I'll suggest some books for you.
Read along with everyone else!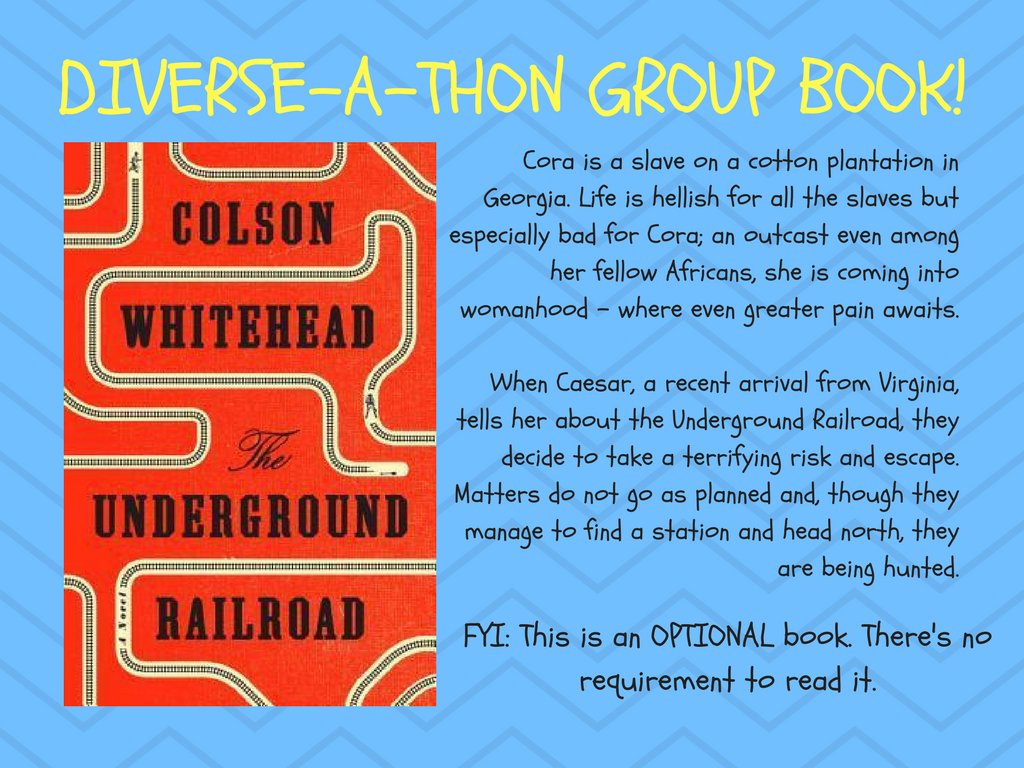 Let me know in the comments if you're joining us for Diverse-A-Thon!
I really hope you are. And I want to remind you all again, that creating a sign-up post with a TBR will count for #ReadDiverse2017 so don't miss out on the opportunity!  
---
Diverse-A-Thon video announcements from the hosts. Click the links to watch.
Simon | Joce | Christina Marie |
---
Thank you for reading. Enter your email below to receive frequent updates from RDB!
 U.S. Affiliate Links